October 2017. Dear 2015 Mark: This is your future self. I know you're disappointed with dropping out of the Gorge Waterfalls 50k, but I'm here to tell you that it all turns out okay. Let me tell you about the race we just finished, and then about the journey that began with your race.
I've reached the last of the side streets through Yachats, and at the end of the block there's a short tunnel of shrubs that leads back to the wide, grassy bluff where the Adobe Resort overlooks the Pacific Ocean. Not a runner is in sight in front of me. While I can't see anyone behind me either, I know that Bill and Krissi are close.
My legs are tired, but as always at the end of a long race its the ache in my joints that I feel more than anything. The sharp pain in my rib and my left thigh aren't helping any either. Something is going on there; time to think about that later.
These pains seem minor in the moment, and fade to the back of my mind as I can see the Resort ahead. The day hikers and locals are clapping and cheering, and in the distance I can hear the sound of cow bells. I smile. Only a runner can really appreciate the joy of hearing cow bells. I find that I'm no longer just plodding along, but have picked it up to a brisk jog. The ocean on my left, the town on my right, the sound of the surf in my ear, I continue to increase my tempo to a run.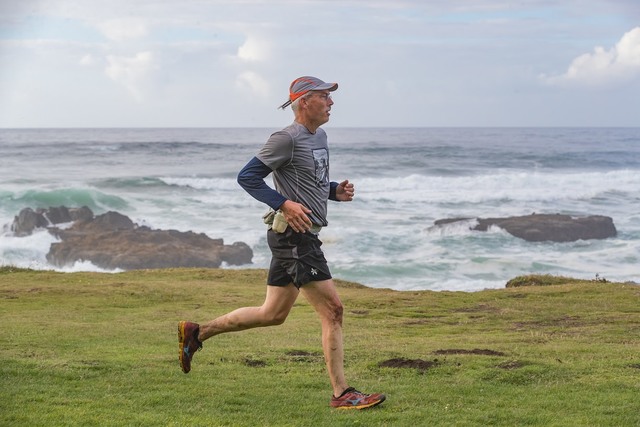 How long now? A half mile? The cheers carry me along, and as I round the corner of the Resort I can see the finish line. Standing just on the other side "Rainshdow Running"'s race director James Varner waits, as he always does, to personally greet every runner who crosses. I'm sprinting now; I don't even know how, but I'm sprinting. I can feel the wide grin on my face, and in a last burst I'm across the finish line and James and I are high fiving. I sneak a quick glance at the clock, and it shows 7 hours 39 minutes; under the cutoff time by 21 minutes.
I step away from the finish line, and walk out of the finish area corral. Looking back I still don't see another runner, but I can hear the cheers of the crowd from around the corner of the Resort. It's Bill, coming in to sight and chugging up that last slope to the finish line. I clap and hoot and holler with the rest as he and James embrace in a bear hug. Looking over James' shoulder he catches my eye and gives me a smile.
The crowd is cheering again, and sure enough it's Krissi. Spent, but determined, she runs it in across the finish line. After she crosses she sees me clapping, and nods. As she comes out of the corral I congratulate her. "Well done, girl." She smiles a now familiar smile. "Thanks, you too."
And with that, the moment is over. The pain and fatigue begin to wash over me. There is food -- so much food -- awaiting, and cold beer in the beer garden, and I'm looking for my friend Greg who volunteered this day, and I want to let my wife know that I'm okay.
31 miles. 4500' of elevation gain. My third 50k completed, and the outcome never in doubt. That's right, 2015 Mark. From that tough moment just down the trail from Multnomah Falls until here, from that necessary but disappointing decsion to drop, you have completed not one but three 50k races.
You actually completed your first 50k 7 months after that tough dropout at Gorges Waterfalls. You were looking to regroup with a 30k, and the Point Defiance race in Tacoma seemed perfect -- all trail, soft earth surfaces, moderate elevation gain. On a last minute whim you opted for the 50k distance instead, and despite an unusual challenge courtesy of Hurricane Oho you finished.
Last year you took on a more ambitious 50k at Baker Lake. Over 4000' feet of elevation gain, no single big climb, but lots of unrelenting ups and downs accompanied by rugged single track of roots, granite, and damp, moss covered foot bridges over the many streams and gullys. You finished, despite digging deeper than you expected down the last few miles.
But there's no race quite like a "Rainshadow Running" event -- a joyous finish area celebration, well organized with great volunteers, but tough, sometimes to the point of cruelty. Know what you're doing, and train carefully, when you sign up for a "Rainshadow Running" event.
Some "Rainshadow" events you won't even try. Yakima Ridge, with an abundance of elevation gain and no shade or cover from the Central Washington summer sun. No. Orcas Island, in January, with over 8000' of elevation gain guaranteed to be cold, slippery, and muddy since that is the heart of the rainy season on the San Juan Islands. Again, no.
Winthrop Marathon just about did you in, with the final 8 miles of summer sun turning an apparent PR into an epic struggle you weren't sure you'd finish. And Gorge Waterfalls, with its 6000' of elevation gain, including a final climb of 2400' (where you flamed out), was arrogance to the point of hubris as a first attempt at a 50k. You know that now.
Still, we both know that we had unfinished business with "Rainshadow Running". Finish a "Rainshadow" ultra, and finish it under control, and you know you really belong in the ultra community. And so, 2015 Mark, we found ourselves at the start of the Oregon Coast 50k, seeking redemption.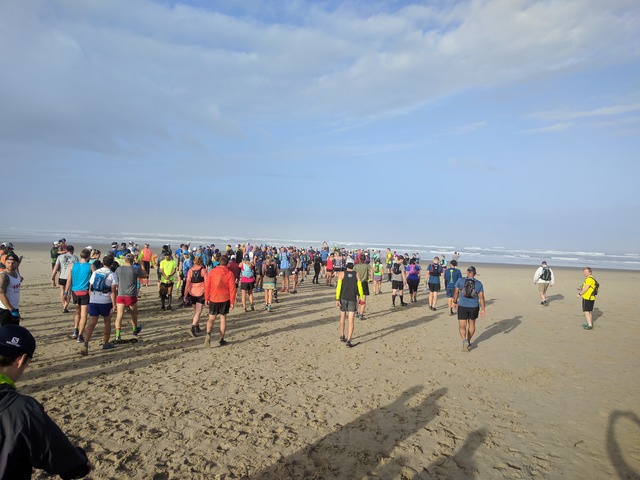 From the town of Yachats the 250 runners are bused north to a state park beach. The course then takes you down the beach for 6 miles back to Yachats and the first check point. I've done a bit of beach running, and I know how deceptively sand can sap stamina out of you. So I have a game plan. Slow jog for 2 minutes, then walk for 1 minute. Repeat, until I clear the beach.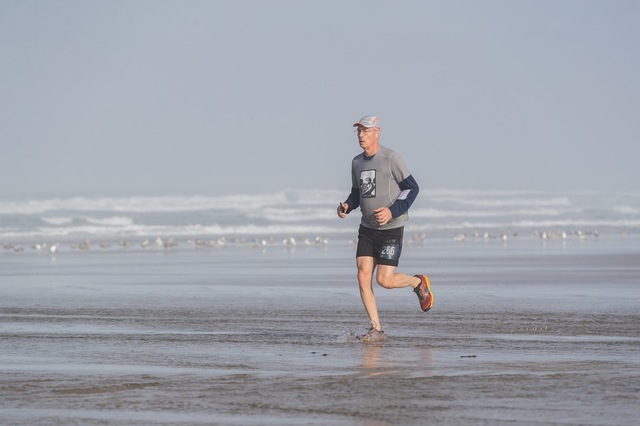 James sounds the start, and runners take off. I start with a minute of walking, and then begin my slow jog. By then I can barely see the rest of the runners, carried away by their enthusiasm, and lost in the morning fog.
By Mile 2 I am alone, so far back that I can't even see another runner. I start to doubt my strategy. Am I taking this section too slow? Should I be banking more time for later sections of the course? Why has everyone else surged so far ahead? I stick to my plan. Around Mile 4 I pass one runner, and as I head off the beach and into Yachats I pass another. Then I'm through the first checkpoint. It's 10:20; I'm almost an hour ahead of the cutoff time.
The next several miles are flat as the course works its way through town and then down Highway 101 a bit. I follow the course markers off the highway and onto dirt single track that plunges into the forest. Almost immediately the trail turns into a steep, switchback upgrade.
I've trained and planned for this. It's about a 900' climb, and though it feels opppressive, even stifling with the dense foliage and high humidity, I'm confident. Mostly I keep it to a brisk walk, but any reasonably flat stretch, even just 20 or 30 feet, I pick up to an easy jog.
Now I'm picking off runners one after another, all those who set off too fast on the sand and didn't conserve enough energy for the uphills. We reach a level stretch after about 600' of climbing, and I've passed 10 runners at this point.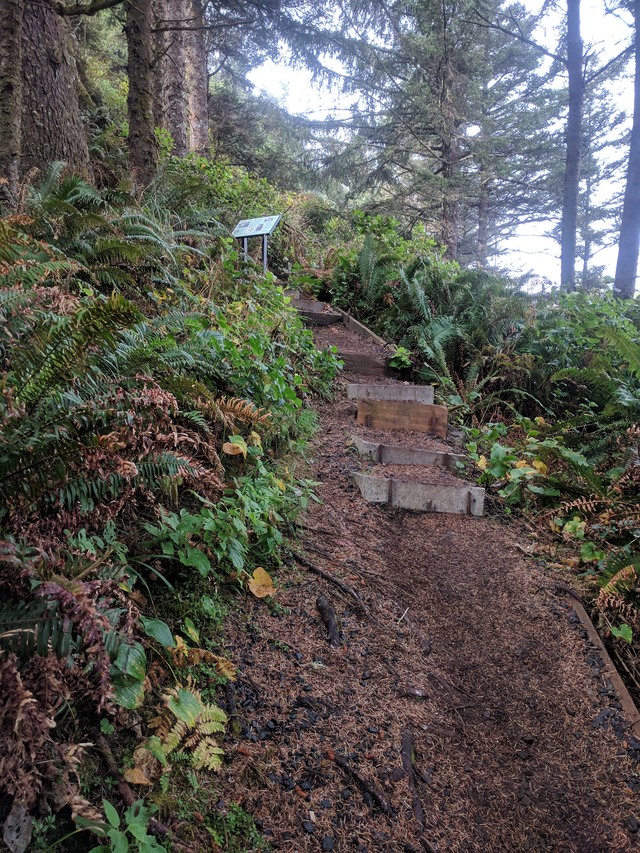 The group I'm in the middle of is somewhere around Mile 11 at this point, and in front of me is a young woman with sandy blond hair, freckles, and a big smile. Her name is Krissi, she's from Las Vegas, and this is her first 50k. We play leap frog for a bit, and then on the next upgrade I pass her. She calls out "You're an inspiration; you motivate me!"
I puzzle over this statement for the remainder of the race. Why? Because I'm old? I'm slightly offended by that. Not offended by her; she's a ray of sunshine. But offended at the idea that age could be a barrier. When I turned 50 I had never run more than 7 miles. Now I'm 57 and I've completed 2 50ks, 4 marathons, and more half marathons than I can count. I decide to be offended, and use that as motivation.
Runners. We grab motivation wherever we can. Just like Krissi.
Finally we top out the big hill, and are rewarded with a spectacular panorama view of the Oregon Coast. The view is worth every step of the climb it took to get here. "Now that's a view worth fighting for," says a runner ahead of me who has paused to take a picture.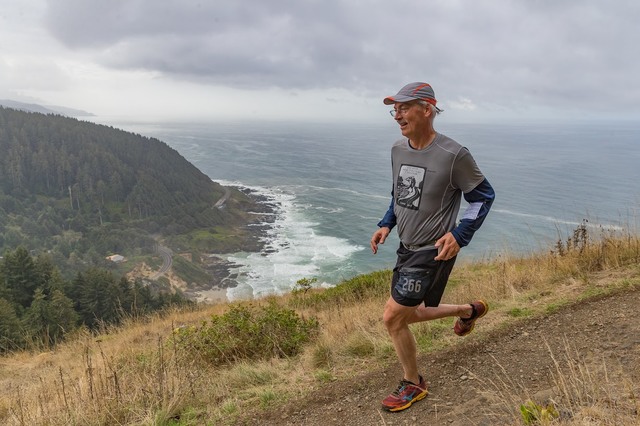 I begin the steep switchbacks downhill, pushing to the back of my mind that I will have to climb this same grade in a matter of hours. Careening down the hill, hopping over roots and rocks, I barrel past another 10 runners.
It happens in an instant. So fast that I'm laid out on the ground before I can react. I pivot on a hairpin turn around a boulder, and as I'm coming out of the bottom of the turn my left foot snags a root. Crumbling to my left I slam into the boulder with my chest and thigh taking the impact. I hit so hard that I bounce off the boulder and crash down on the trail on my right side, skidding to a halt with my right calf grinding on the trail. Shakily I get up, brush myself off, and, in that tunnel vision mindset that runners know so well, resume my full tilt descent.
In the weeks ahead, unable to do a situp, it will dawn on me that I may have cracked a rib. It will also take weeks for the bruising on my left thigh to subside, and the gash on my right calf to heal. In the moment, the episdoe is already forgotten.
At the bottom of the switchbacks is Checkpoint 2, and I power through 45 minutes ahead of the cutoff time. The next cutoff time will be at this same aid station, 10 miles from now. As I'm heading out Krissi bounds in. "How are you doing?"
"Not bad," I say. "I only fell once."
She nods. "Didn't see it, but I heard it."
The next 2 miles offers easy, rolling single track. I catch up to a guy named Bill who looks to be about my age. Looks can be deceiving; I would learn later that Bill is 69. Bill seems to be something of a fixture in the local trail running community. Many of the runners we encounter greet him by name. He has powerful calves that I am envious of, but runs with a noticeable limp. Not a big deal; I've been told that I run with a limp.
After a couple of miles the trail turns uphill again. This climb is not as steep as the previous climb but is more sustained. For the next 4 miles there are no level or downhill breaks; the only variance is the steepness of the climb. We are gaining 1500' over this stretch, meaning the average grade over this section is 7%. Bill and his monster calf muscles leave me well behind at this point.
I pass a few runners, but several runners pass me as well. Most of us are power walking; there is very little running on this stretch. It takes me almost two hours to make this ascent, and it feels brutally unrelenting. I saw a runner literally reduced to tears over the effort required. Again, runners are paying the price for having left too much energy in the sand on the beach. I keep waiting for the unsteady, rubber-legged feeling that will signal that I'm spent. I remember that feeling well from my collapse at Gorges Waterfalls 50k, but it never comes. My legs keep powering me on. Again, I push away thought of the big steep climb awaiting me beyond the last checkpoint. My only thought is to make the last cutoff time, and leave whatever stamina I have on the trail after that.
A group of us comes upon two women runners, one administering first aid to the other. She calls out, "Watch the stump in the middle there. There's a wasp nest in the base of it." Duly warned, we skirt by without incident. The challenges of trail running are many, and varied.
At last I reach the aid station at the top of the ridge. Every aid station has been fantastic, with a volunteer at the ready asking, "What do you need?" Water bottles are quickly refilled, and the fueling choices are abundant, from fruit to chips to sandwiches, nuts or candy. I'm in and out in less than 5 minutes, doubling back the way I have just come.
Moments out of the aid station I see Krissi on the way in. Her big grin is gone, drained away by the long climb. When she sees me she manages a quick smile. "We got this," I call out, and we part.
I'm a little worried about the cutoff time, with only an hour to go to get back to the last check point. But the return route forks off the trail we ascended, following a shorter and smoother trail back down the ridge. Also, no hornets.
I'm about halfway down the descent when Krissi catches up to me, smiling once again and obviously happy to be enjoying some downhill running. We run together for a bit, chatting as we go. The trail makes a brief upturn for about a quarter mile.
"What the heck?"
"I know, this wasn't in the guide book."
"I'm definitely asking my travel agent for a refund."
We top out this stretch and return to steady downhill. Krissi looks relieved, and says, "I'm such a weenie on the uphills." Don't worry about it Krissi; we all are.
At that moment a big step down jars my water bottle loose from my belt. I stop to pick it up. With an impish grin, Krissi flashes by, calling out, "See ya!" I roll my eyes, but by the time I have everything situated and resume running she is out of sight.
A short while later I roll into the final aid station, and seconds behind me Bill comes in. One of the volunteers says to us, "You guys are doing great. Half an hour ahead of the cutoff time. You're going to finish this thing."
They get my water bottles filled, and turn to Bill's. He scans the table and says, "Oh man, is that pickle juice? Pour some of that right in there." The volunteer looks at him questioningly, and Bill waves him on. In goes the pickle juice. Bill then adds a powder he's been carrying, and the entire concoction immediately turns black.
The wide eyed volunteer asks, "What is that stuff?"
A twinkle in his eye, Bill says, "I'd take the time to tell you, but if I don't drink this quick it'll eat right through the bottle." With that Bill heads up the trail, and I follow. Behind us the two volunteers are roaring with laughter.
"I love ultra runners, man. You guys are the best. You're crazy!"
And here I am. 7 miles to go, but really it's the 1000' of elevation gain over the next 2 miles that stands between me and the finish line. I know at this point that I'm going to finish. I don't know if I'm going to make the 5:00 PM finish line cutoff time. Bill quickly outpaces me on the ascent, and no one is anywhere close behind me. I am alone on the trail, just me and one last big climb.
Power walking my way up, I really have no idea what I have left in the tank at this point. I am waiting for that empty, spent feeling that comes in the closing miles of every marathon and ultra I have run. One switchback. Then another. And another. On and on. Then suddenly I'm at the overlook, and the Oregon coast panorama is spread out before me once again. The spent feeling never comes. I know the next mile or so is level and then I have another 300' or so of climb to do, but my confidence soars. I am going to finish. And I am going to hit the 5:00 PM cutoff time.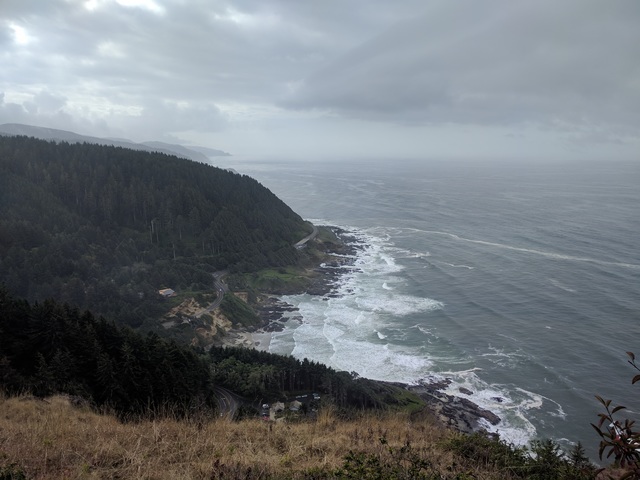 At last I top out the climb, and fly down the steep downhill. Near the bottom I catch up to Bill. He waves me past, but I pull back, saying, "No, you're setting a good pace." We chat a bit, but his words get shorter and his breathing is labored. I realize that he is holding me back and I slip by him.
The trail bottoms out to a short, rolling section that will put us back on Highway 101. I'm in full tunnel vision mode now, and as I pass another runner it takes me a moment to realize it's Krissi. She too is struggling; that last climb obviously took a lot out of her. I slow down and give her some encouragement. She manages a smile that's more of a grimace, but she's game. For the next mile or so she keeps pace with me.
We come to Highway 101, and a volunteer holds us up for a moment so that traffic can pass. Another runner joins us waiting. It's Bill. Then the three of us cross the highway, and turn towards Yachats, the town now in sight. I am surprised to feel like I have some reserve left, so I pick up the pace. As I enter town, I look over my shoulder and see Bill, about a 100 yards behind me. About 50 yards behind him is Krissi, not running fast but definitely running and not walking.
The onlookers clap and cheer, and now I can hear the sound of the surf off to our left. I look again at the three of us and smile. The finish line awaits.
So, 2015 Mark, what have we learned in the intervening years? First of all, your future selves owe you a lot. In dropping out of Gorge Waterfalls 50k you confronted failure, but chose not to see it as defeat. You have steadily built on lessons learned, starting with the first and most important: "The only way to learn how to run a 50k is to run a 50k."
Hard as it is to confront, let's recap what went wrong that day so I can show you how you've grown:
You overtrained and underprepared -- too many training miles run at too high an intensity, and not enough mental preparation.
You chased cutoff times instead of letting the race come to you -- again, poor mental preparation.
You started too fast, ran too hard through the middle miles, and had no measure of what your overall exertion level was.
Poor fueling. It was almost Mile 10 before you slowed down for your first water or fuel, and that's too late in the race for hasty consumption through the middle stretch to catch you up.
For a runner, you were over weight. At 6'4" your ideal running weight should be closer to 190 than 210.
Since then you have tackled these challenges thoughtfully and analytically (note that these are not the same thing). You have been patient. And you have made steady progress.
You have read from people wiser than you. "Meb for Mortals" has a lot of great information, but his attention to the particular needs of older runners was a revelation. No book has impacted you as much as "Primal Fitness", teaching you the value of rest, the value of running by feel, and the importance of running slow to build a base from which to run faster.
You have taken up heart rate training and stuck consistently to it for almost 2 years now. More than anything heart rate monitoring has given you a measure of level of effort that clues you in when you are pushing too hard. You have broken out of the "no pain no gain" cycle, and are healthier than you have been in a long time.
You've recognized low carb eating as an essential companion to heart rate training and the holistic effort to reset your metabolism from carb burning to fat burning. As a result you stepped up to the starting line at Oregon Coast 50k 17 pounds lighter than you had been at the start of Baker Lake 50k a year earlier.
You've taken weight training and other cross training exercises seriously. While this aspect of staying fit has always been, and still is a chore for you mentally, you've pursued it with discipline. You have more power and flexibility now than you had at the start of Gorge Waterfalls 50k.
You have listened to your friends, and learned from their experiences and advice. For example, Endurolyte has proven to be a key to electrolyte balance on a low carb fueling strategy.
You have made the wilderness your religion, and running the high alpine trails of Mount Rainier your church. There you have found kindred spirits who have shared their trail lore with you and welcomed you as one of their own. And you have found the calm and patience to let the trail come to you.
There is so much still to learn. Indeed, this blend of intellectual and physical challenge is an essential part of what appeals to you about running. But know this: you made a choice to be positive, to grow and learn from failure, and we, your future selves, will honor that choice. We will pass that torch to future selves yet to come.
So it is with happiness and gratitude that I lay your ghost to rest, redeemed at last. You now belong to that small community of Pacific Northwest trail runners who have crossed the finish line of a "Rainshadow Running" ultra with confidence and control.