June 2019. On a quiet evening the week before Memorial Day I sit in the living room sorting through our music collection and adding songs to a play list that is simply titled "50K". I'm also scanning the course map for the Stumptown Trail Races 50K in Portland's Forest Park. While the songs themselves are quite different, they share a certain melancholy moodiness that is somehow what I find inspiring when I'm far out on the trail: Cream's "Born Under a Bad Sign", Bruce Springsteen's "The Promise", Bon Jovi's "Blaze of Glory", Puscifer's "Humbling River", and so on.
It's about 3 hours of music altogether, far less than the length of time I'll spend on the race course. But I'm not looking to fill the whole race with music. While I'm very much a solo runner in training, I love the social dimension of races, and the friends you find along the way. So on race days I'm usually without headphones and open to the world around me. But for this race, as I focus on the course map, I'm seeing what will be the dark time for the soul -- 7 miles, 7 lonely miles along the Wildwood Trail, from Aid Station 4 at Mile 21 to Aid Station 5 at Mile 28. I want music I can count on to get me through that stage.
At 7:10 on Memorial Day morning my Lyft driver has just dropped me off at the Northwest District entrance to Portland's Forest Park. I'm walking along the broad path that begins Forest Park's iconic Leif Erickson Trail, to check in for the 50k.
The day is perfect for running. The temperature is in the mid 50s, and will top out at about 70 later in the day. Forest Park is a trail runner's dream. A rugged, undeveloped spur of the Tualatin Mountains, the park offers 5100 acres of dense woods, some still old growth, and 70 miles of trails, 31 of which we'll traverse today.
Stumptown Trail Races is a small event -- routinely less than 200 runners -- despite being the only 50k offered in Forest Park. Check-in is quick and easy, and I have time to mingle and chat with the other runners before the 8:00 AM start time. Right now we are 150 strangers, but by the end of the day we will be an intimate tribe of mutual support. This is, in fact, one of the big appeals of trail running as a passtime.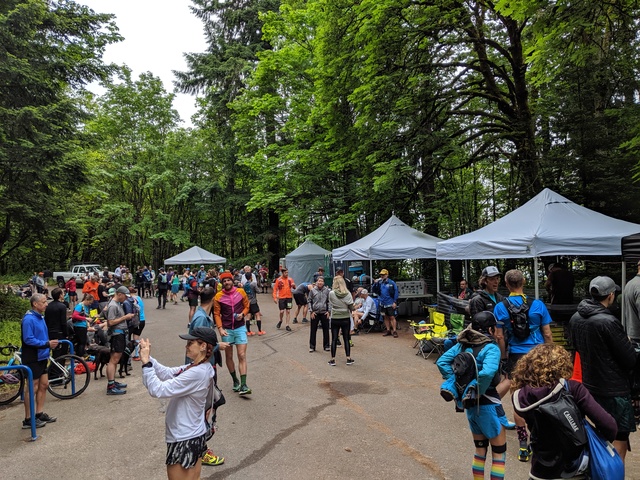 As I'm getting a few pictures a runner offers to take my picture at the starting line. Matthew is 38 years old and not only is this his first 50k it is his first organized race. He is charmingly humble and optimistic about his prosects for the day. We chat a little about training and preparation, I offer some words of encouragement, and then it's time to assemble for the start. I won't see him again for 17 miles.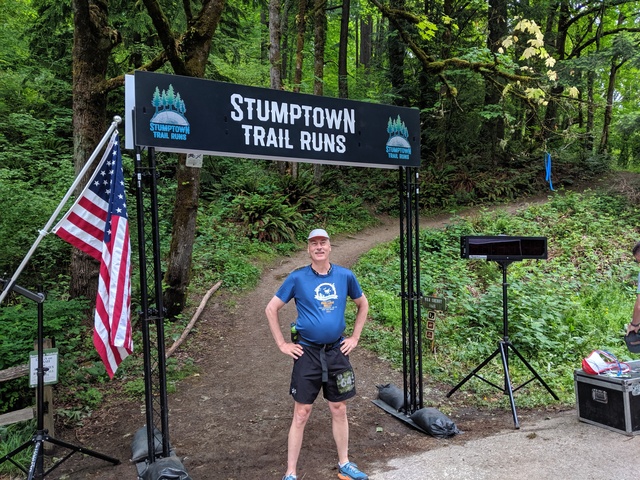 Race Director Todd Janssen steps up to give us our final instructions on course rules and course markings. He asks how many are running their first 50k, and I'm surprised to see about half the runners raise their hands. Todd pauses, and then says, "Trail running is fantastic, but it's tough. Y'all are going to get deep into the course out there and there are stretches where it is just going to suck. But you get to that finish line, and you'll be an ultra runner. I try to keep in mind what Ken Chlouber, founder of the Leadville 100, says -- 'you're tougher than you think you are, and you can do more than you think.' Dig deep and bring it home today, and you'll be an ultra runner."
Todd has found someone to sing the Star Spangled Banner, and the guy is actually quite good. It's emotional, especially on Memorial Day. Then with the blare of an air horn we're off.
Of course the race starts with a steep uphill stretch, challenging us immediately with a few hundred feet of elevation gain. Runners should have no illusions about the demands of Forest Park. In addition to Leif Erickson we'll spend time on the Wild Cherry Trail, the Birch Trail, the Maple Trail, the Trillium Trail, and the Dogwood Trail. But most of our distance will be on, and the real showcase of the course is the Wildwood Trail. Wildwood is notoriously steep, and I'm gonig to cover 4500' of elevation gain today. Rather than one or two monster hills Wildwood delivers hill after hill of 200' to 600' of elevation gain often with grades above 10%. Patience and discipline are essential to avoid early over-exertion.
Over the first mile or so runners quickly shake out by pace, and I am comfortably near the back of the pack, doing more walking than running through the initial uphill. As we crest that ascent and move into a series of rolling hills, I find myself in a mix with three women that, in my head, I dub as Patriot Girl, Rainbow Chick, and Asian Lady.
Patriot Girl is wearing stars and stripes runners tights, which seems a little over the top until I catch sight of the "In memory of..." bandana around her neck. Memorial Day. It matters. We are each absorbed in our own thoughts, and we are each thinking of someone else. Rainbow Chick brings a smile to my face immediately. She has short cropped hair that is dyed in streaks from orange to pink, giving her this flaming carrot top look. And she has a rainbow bandana hanging out of her back pocket. You go, girl. We are all one crazy, wonderful, mixed up Rainbow Nation, whether everyone wants to acknowledge that or not. Asian Lady is attired in blue and black, with a determined look on her face, but even in the early miles she is huffing and puffing.
I am a tall runner at 6'4", and I am a heavy runner, weighing in these days at about 210 lbs. On the uphills I struggle because I weigh more than anyone else. On the downhills I thrive, because my legs are longer than anyone elses. So over this rolling section Patriot Girl, Rainbow Chick, and Asian Lady are passing me on every uphill, and I am passing them on every downhill. Throughout we call out words of encouragement to each other.
Somewhere after Mile 4 I pass Asian Lady and call out "See you at the Aid Station" and, more grimace than smile, she replies "I don't know." The distance between us grows, and I worry that I have seen the last of her. Around Mile 7 Rainbow Chick passes me, and judging from the wide grin on her face she is having an easier day than I am. Sadly, that is the last I see of her. Patriot Girl and I will play leapfrog for many miles to come.
Unlike other 50Ks I have run, Stumptown only has one cutoff time. You have 5 1/2 hours to make Aid Station 4 at Mile 21, or you will be pulled from the course. If you make it that far, there is no cutoff time between there and the finish line. Ultras are small, intimate affairs compared to a big city marathon with anywhere from 10 to 50 thousand runners. On the back half of a 50K you consisently experience this phenomenon where almost everyone ahead of you is faster than you, and you are faster than almost everyone behind you. The net effect is one of isolation; down the back half of an ultra you spend long stretches alone, as the distance between you and the runners both ahead and behind you only grows wider.
The aid station at the halfway point sits in front of the most sustained climbing on the course.There are two steep hills right out of the gate, then a relatively flat out and back, and then a long uphill to Aid Station 4 and the cutoff time. Patriot Girl passes me for good just before the halfway point aid station. Two guys I haven't seen before pass me as we come out of the aid station. As I crest the second uphill and turn onto the flat stretch, lead runners returning from the out and back pass me, a sight I find inspiring. Towards the end of this pack, and maybe 20 minutes ahead of me, I pass Matthew on his way back. The recognition and the smiles are immediate; a nice boost of the spirits just when I need it.
And then I am alone.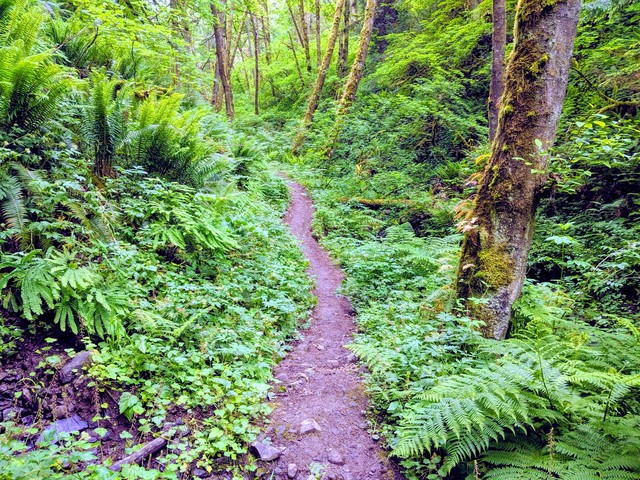 From Mile 17 to Mile 21 I grind through the rest of the out and back and a the long uphill without ever seeing another runner. At one point I worry that I have taken a wrong turn and lost the course, but then I see the reassuring sight of orange cones and am relieved to realize that I'm still on course. But I also realize that I am fading. On two of the three previous 50K races I've completed I've enjoyed a late stage "runner's high" that has bolstered me through the darkest hours. On this day, like Baker Lake 50K 2 1/2 years ago, I can find no such reserve. The steepness of the course, particularly on the downhills, have taken a toll. And I have to acknowledge that despite some strong peak training runs I have not put in the overall mileage that has prepared me so well for previous 50Ks.
Still, I roll into Aid Station 4 with 45 minutes to spare ahead of the cutoff time. This is a huge psychological boost. Yes, I have 10 miles to go, but all time pressure has been removed. Somehow I will find a way to finish. That's what I have headphones and a play list tucked away for. All of volunteers at the station are dressed in costume, all dressed as angels. Gratefully I take their offerings of beverages and food. Every ultra leaves me with a different craving in the late stages, and today it is Fritos and orange slices paired with a nice ginger ale.
One of the volunteers looks suspiciously familiar. I catch his eye, and say, "Didn't you used to be a Viking?" He looks surprised, and then laughs. "I know you, don't I?" he says. Indeed. We have met twice before. He was in Viking attire at the final aid station for Oregon Coast 50K, a year and a half ago, and since then I've bumped into him in Brooklyn, of all places, where he volunteered helping out with the Trail Running Film Festival. We chat for a few minutes about old times, and I get ready to move on.
Time for that dark, desolate section I have been steeling myself for. Headphones? Check. Playlist? Ready. Water bottles? Full. I turn to face the next section of trail, and... the volunteers raise a cheer. Another runner is approaching.
It's Asian Lady.
I'm already 10 yards down the trail and I pull up. Asian Lady looks completely spent, but the cheers and cow bells from the volunteers are pulling her in. I join the clapping and applause. She sees me, and her eyes get big. "I didn't think I would see you again," she says. I smile and nod, and say, "You're doing great. I'll see you at the finish line." Again, I start off down the trail at a slow trot. And again, I pull up.
Walking back into the aid station, I look her in the eye and say, "How are you doing?"
"I don't know if I can make it," she replies.
I put on my brave face and say, "You've made the cutoff time. That's the hard part. You're going to make it."
There's a long pause, and, quietly, she says, "I'll try."
In that moment, my heart just breaks. "I'm Mark," I say.
She replies, "I'm Kim."
"Kim, how about we do this together? I could use the company."
With a worried look she says, "I would slow you down."
I shrug. "No you won't. I'm not setting any records today. We'd be helping each other."
Slowly a smile spreads across her face, and she nods. I wait for her to fill her water bottles, and then, at a slow jog, off we go.
We do what depleted ultra runners do at this stage of a race. We walk the uphills, we jog the flats, and we run the downhills. And we talk. Talking is distraction from suffering.
We talk about running. She's run 20 marathons; I've run four. She likes the big city marathons like Portland; she's signed up for Rock 'n Roll Seattle in a few weeks. I like the small events like the North Olympic Discovery Marathon. She has only run one previous 50K; this same event a year ago. I have finished three previous 50Ks. While we are both struggling, Kim is feeling her way uncertainty while I am anchored in the certainty that we will finish. This is hard, but I've been here often enough that the outcome is never in doubt.
We talk about family. She has a 26 year old daughter and a 31 year old son. I have a 13 year old son and a 26 year old son. Both of us are starting to feel a bit of that empty nest feeling. Her daughter lives in Portland, but her son has recently taken a teaching position in Germany, and while she's proud of him she's really feeling what a long way away that is. She's looking forward to some vacation time later in the summer to go and visit him. For my part, I'm dealing with the turmoil of an adolescent at home. And my oldest son is about to start a job in Ann Arbor Michigan, a place that neither he nor I anticipated he would end up, and quite a bit further from home than he has ever been for any length of time.
An hour passes, and then a bit more. Even idle conversation peters out as we each summon our last bits of stamina. We reach the final aid station, happy but subdued. Three miles to go.
"There's one last hill," Kim says, as we roll out of the aid station. "Thank you for staying with me."
I brush this off again. "Thank you for being there for me. We're in this together."
Another mile creeps by and we find the last hill. Even level ground we walk at this point, and the climb is a slow, step by step trudge. Like any hill in the depths of a long run it seems endless. I think each switchback will be the last, and then there's one more. Finally we reach the crest, and with about a mile to go it's all downhill to the finish line. By now there is no running, only walking.
Then we reach a point where we can hear the cheering and applause at the finish line. We have less than a half mile to go. "We can run this," I say, and Kim follows me down the switchbacks towards that destination at the outset of the Leif Erickson Trail that we set out from roughly 8 hours ago. We turn a final switchback, and I pull up a bit. "Come on," I say. "Side by side. I don't know that I could have done this without you. We finish it together." And so, stride for stride, we cross the finish line, friends in ultra running to the end.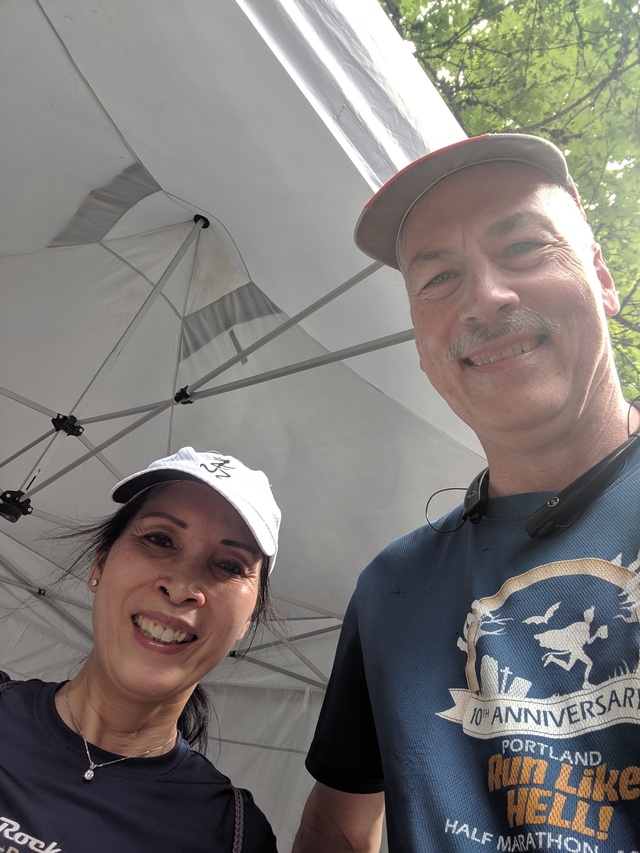 Epilogue
It always takes me awhile to process a big race, and so a few weeks have passed before I was ready to write this all down. In that time, the Seattle Rock 'n Roll Marathon has been run. Sure enough, Kim finished. 4 hours, 46 minutes. Right about what my marathon time is, which seems fitting. Well done, my running friend. Perhaps I'll see you at the finish line again some day.