Push Back the Hands of Time by Mark Stone
April 2018. Mile Five approaches, and while I'm feeling the effort, in the back of my mind I know I'm having a pretty good race. I love the social aspect of a race, and so I don't usually race with headphones on. But 10K -- the shortest distance I run -- is all about speed and focus. With no room to be social -- or so I thought -- I use music to help me find focus.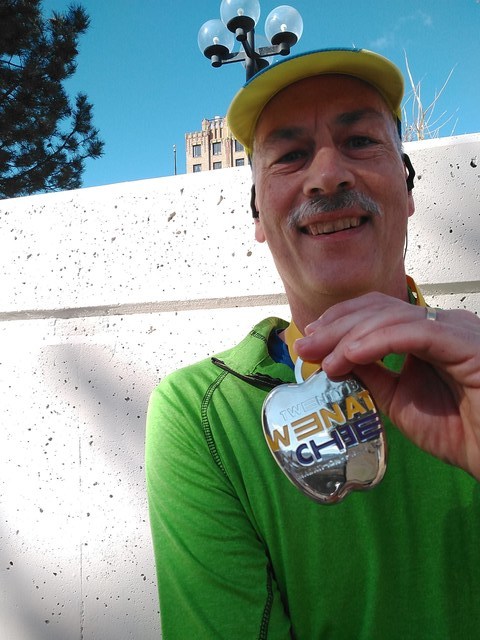 I pass another runner, and the melancholy sound of Puscifer's "Humbling River" plays through my headphones. The song always inspires me, both because my youngest son introduced it to me, and because I love its mournful, spiritual message:

It'll take a lot more than words and guns
A whole lot more than riches and muscle
The hands of the many must join as one
And together we'll cross the river
At that moment another runner, gray-haired like me, edges past. I pick up my pace slightly, and we fall into a rhythm, matching each other stride for stride. No words exchange between us, yet we are in perfect harmony. Minutes go by, and we reel in runner after runner, still stride for stride in sync. We are probably moving at about an 8:45 minute mile pace; for me these days this counts as fast. More minutes slip by; a glance at my phone shows us coming up on six miles.
About 20 strides past the fork a little voice in the back of my head tugs for my attention. That fork probably meant something. I give my partner a quick glance and realize, with a shock, that our bibs are different colors. All at once I realize I'm on the marathon course, and we've just passed the turnoff for 10k runners to head for the finish line. With regret I pull up, and watch my partner pull away from me.
I make a quick about face, re-focus, and take off for the finish line. Up the foot bridge, over the railroad tracks, then down the far side of the bridge, nothing but descent between me and the finish. I hit the finish line at a dead sprint, finishing time 57 minutes and change (it will prove to be 57:42). Top half of my age group, top third overall, and only 18 seconds off the time for my November 10K, which was in turn the fastest 10K I'd run in three years.
Rewind to 5:30 that morning, waking up in my hotel room. I dress in the dark, trying not to wake my wife and son, make my way to the lobby for a quick breakfast, and then head out the door for the one mile walk to the starting line.
I have doubts.
As I age, I've found I have the need to take a break from running each winter, and then rebuild my base running mileage in the spring. In theory I should never lose everything I've gained when I take this break, and thus each year should be an improvement on the previous.
But I have doubts.
This has been a tough winter, and an equally tough spring. We've had a deluge of rainfall in the Pacific Northwest over the winter and into the spring, making running difficult. My job has made the challenge greater, as I am now dividing my time between the Seattle area and Brooklyn New York. New York weather has not been kind either. Snow, wind, and cold in January and February, and then 4 back to back Nor'Easters in February and March. I have put in a lot of treadmill miles, I've suited up for soggy runs, I've left footprints in the snow, and I have struggled to get my miles. I have also struggled to get to the gym regularly for the weight training that sustains muscle mass in the face of aging. And I have put on weight. While I haven't weighed myself recently, I'd figure I'm 10 - 12 pounds heavier than I was in November. And November was a real pinnacle of recent fitness for me, coming off a successful 50K and then getting in a solid month of speed work in preparation for my 10K, all while managing my diet to bring my weight down to about 197, the lowest it has been in years, and not much above what I weighed in college.
And so I have doubts. But...
I look up at the snowcaps of the Cascade Mountains that encircle the valley here. Wenatchee is built at the confluence of the Wenatchee and Columbia Rivers, and the panoramic views lift my heart. I look to my left at the broad Columbia River rolling majestically by, and I am once again so impressed with the job the city has done to create green space, parks, and trail all along the riverfront. And I remind myself that the 10 mile Riverfront Loop, formed by two bridges and gorgeous trail along both sides of the Columbia, is one of my very favorite running routes. Today I get spend 10K on that trail under sunny skies and moderate temperatures. Isn't that enough?
It is enough.
And so I reach the starting line, resolved and content.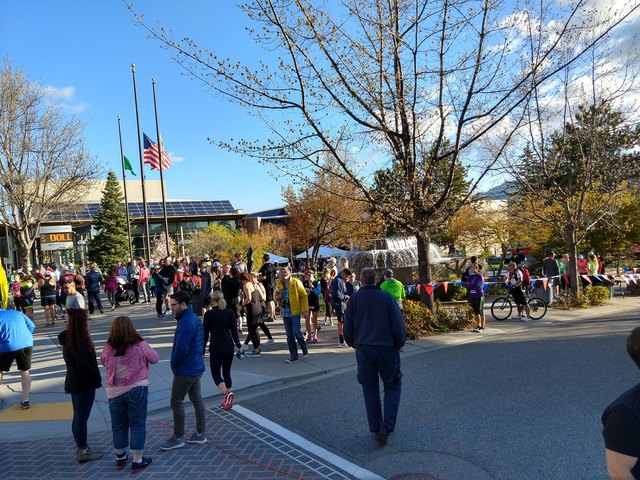 I have my game plan; it's the same rough plan I've followed for about three years now. I don't run by pace; indeed, during a race I never really look at my pace any more. Instead I run by heart rate, which I've come to trust as a better measure of effort. Today's plan is simple: keep my heart rate under 148 beats per minute until the turnaround at the halfway point, then keep it under 155 until the last mile, and then see what I've got at that point.
Today there's a 10K, a half marathon, and a marathon. The half marathoners start first; they'll do the complete 10 mile loop with a little extra out and back thrown in on the east shore of the Columbia River. The marathoners will do an out and back on the west shore of the river totaling 10K, and then do two laps of the Riverfront Loop. The 10K runners start together with the marathon runners, but only do the 10K out and back.
The gun sounds, and the herd of runners sets off down Wenatchee Avenue. After four blocks we turn right, leaving downtown, and heading for the river, where we pick up the paved trail and turn left. As always I remind myself not to start too fast, and over the first half mile I try to keep my heart rate in the 130s. At the half mile mark I let loose a little, and my heart rate creeps up into the 140s where I want it.
I just don't feel like I'm moving very fast, and I don't feel like I'm making much effort. The negative thoughts creep back, and I figure I'm putting in about a 10:30 - 11:00 minute mile pace. I shrug it off and remind myself that I'm just here to enjoy the day, not to worry about finishing time. What I don't realize is that my time on the first mile was actually 9:13.
Heading into the second mile I continue to feel like I'm not making a lot of effort, despite my heart rate occasionally bumping up to 150. I make a snap judgment to modify my race plan. Keeping my current effort to mile 2.2, I then go early to a higher heart rate, planning on 155 from mile 2.2 to 4.2, and then planning on low 160s for the final two miles. Maybe I'll flame out at that effort level, but I'm feeling good and I can always back off later if it proves too much.
By the turnaround point I'm aware that I am, in fact, under the 10:00 minute mile pace and not really struggling at all. I'm starting to pass runners who had passed me earlier, and now no one is passing me.
And the day is just beautiful! Always, I try to remember that. The sunlight glistens off the waves on the Columbia River, the grass is that bright emerald green so distinctive of the Pacific Northwest, and the whole picture is framed by those soaring mountains in the distance. I'm here because of this, because it is this setting that I so love.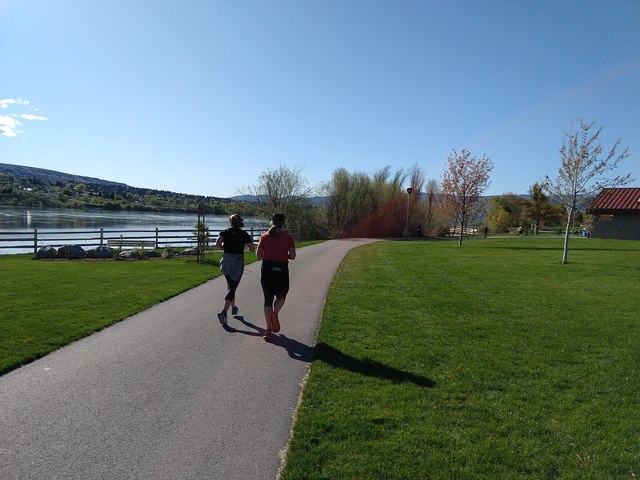 Mile Four. Time to pick up the pace again. The feeling of effort is definitely there now. And then my silent, gray-haired companion arrives. Really, it's going to be a perfect race.
The promise of heart rate training is that you can gradually run faster by focusing on running slower. Certainly it has been good for my health. The three years I've spent in this regimen have left me less injury prone and better rested. But I switched to this approach out of frustration after I found, about four years ago, that I was losing speed to age and that continued high intensity training was making matters worse.
The hard truth was I was regressing to age faster than I was improving through training. If I wanted to regain some of my lost speed, I needed to try something new.
The literature says that it can take anywhere from 18 months to two years for heart rate training to really yield results. That has certainly been my experience. I have matured my approach over that time, but mainly I've just put in the time.
In terms of technique, I've really focused in on periodicity. That means three things.
First, I take an extended break (4 - 6 weeks) at the end of each training season.
Second, I do my training in roughly three week rotations. In one three week period all of my runs are low heart rate runs, generally under 140 beats per minute. In the next three week period my long runs and recovery runs remain at low heart rate, but I take the one or two midweek runs that I do and mix in some high heart rate effort, generally between 150 - 160 beats per minute.
Finally, even when I'm doing a higher heart rate run, I don't do the highest intensity parts for more than 30 seconds at a time. The net result is that in an entire six week cycle I might spend 20 minutes running at a heart rate significantly above 150.
How is it possible to get steadily faster running this way? The best analogy I've heard is that you're building a higher plateau from which to ascend. In effect you're putting your "base camp" higher up, making it easier to "summit." This proves to be true. Each year I watch the pace at which I can maintain a 136 beat per minute heart rate steadily increase, from maybe 13 minute miles in December to closer to 10 minute miles by summer. Each year this gets a little easier, and I progress a little further.
The proof is in the race results. 15 months ago I ran a 10K in just over an hour, and that felt fast compared to the previous two years. Last November I took more than four minutes off of that time. Now, still early in my training season, I have essentially matched that time. I'll run another 10K in the fall and at this point there's no reason to think I can't get under 56 minutes.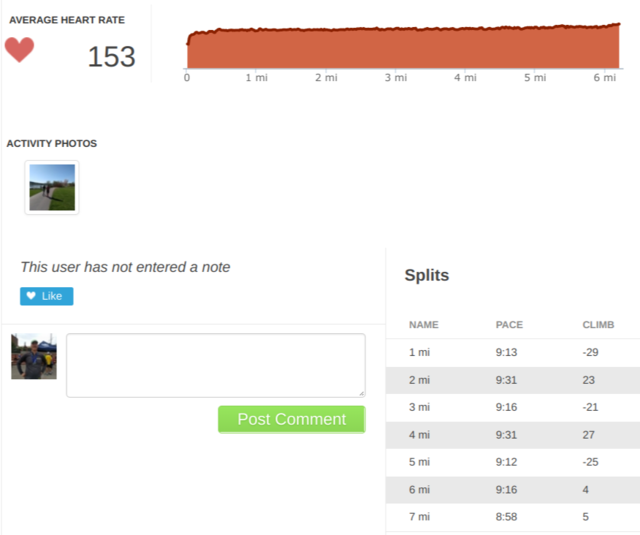 Heart rate training works. Will I ever return to the speed I had four or five years ago? I don't know. But the decline has stopped, and even reversed. I am, in fact, progressing faster with training than I am regressing to age.