March 2020. Greg had a way of showing up at important moments in people's lives, and so everyone who passed through Sonora has a Greg Noll story. This one is mine.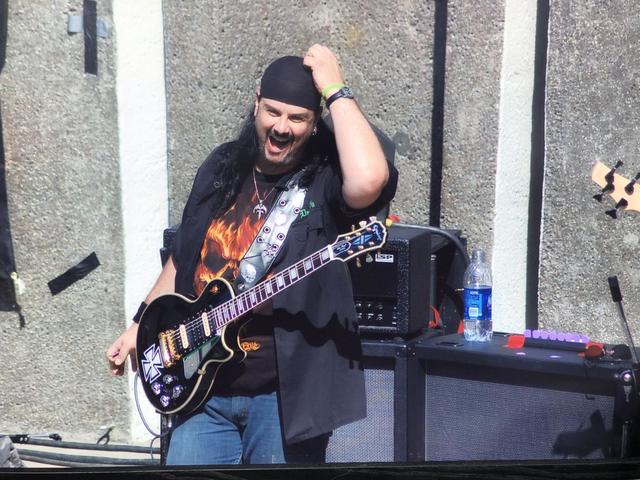 Around Thanksgiving of 2000 I bought a house in Cedar Ridge because, even though I lived in the Bay Area, it was time in my life to buy a house and I certainly couldn't afford Bay Area prices even back then. And I've always loved the Sierras. I thought my purchase would just be a weekend and holiday getaway, and an investment. Little did I know.
My usual hangout while I was house hunting was the Sonora Inn on the corner of Washington and Stockton. In the evenings I'd hang out in the Karaoke bar downstairs. I don't sing, but I got along well with the sisters who ran the place: Barbie (on Karaoke) and Christy (behind the bar). I made friends with Laurie Underwood, the other bartender, as well.
And so it was that in March 2001 I found myself, recently divorced and single once again, on a blind date arranged by Laurie and Lisa Kapp, bartender at The Flying Pig. The Daniel Castro Band was playing at The Flying Pig that night, and it was there that I met Karen. The band was great, and we both enjoyed the music. With a little coaxing (okay, maybe a lot of coaxing) Karen even got me out on the dance floor. But it wasn't much of a date. The place was loud, it was hard to talk, and for two people who'd only just met that night it was challenging. Still, I thought Karen was gorgeous, and watching her on the dance floor she clearly had rhythm, moves, and spirit. And how far wrong could I go with someone who, like me, had a passion for the blues?
Our next date -- really, our first true date -- was dinner at the Josephine Room. Heather Sunshine Howe was our waitress, very pregnant with Teran. I'd yet to meet Linda Henderson, and Larry Henderson had yet to meet all of Sonora. He was still living in the Bay Area. Dinner was wonderful, Karen and I really had a chance to talk and get to know each other, and after dinner Karen suggested we stick around for drinks because...
Greg and Kris Osward were playing the Josephine Room that night. Being the Josephine Room, they played acoustic, but that didn't stop the two of them from wandering all the way from folk rock to Led Zeppelin to Reggae. I was delighted and amazed, and I'd certainly never seen anyone play guitar like Greg. We didn't know it was happening, because neither Karen nor I had truly been so deeply in love with anyone before, but we fell in love that night. And Greg and Kris played the serenade that brought us together. Don't believe me? Ask Heather. She witnessed the whole thing.
So while I originally thought Sonora would be my getaway, in fact it became my home. From 2001 to 2007 it was home, and the first place I could call home in a very long time. It's where I found a community where I truly fit. It's where I fell in love, and got married. It's where Karen and I started a family.
Karen and I were talking recently about which bands/performers each of us had seen most often. Each of us had seen a few performers twice -- for me Santana, America, Hot Tuna, John Lee Hooker, Lindsey Sterling, the Grateful Dead -- but few performers we'd seen more than twice. We did go on to see Daniel Castro four times. But we've seen Larry Henderson more times than that, and the performer we have seen most often is Greg Noll.
If you think it's odd to put Greg Noll in the same category as Santana or John Lee Hooker then, well, you've obviously never heard Greg perform. The size of the stage and audience is not a measure of the talent of a guitarist. And make no mistake, Greg played some pretty big stages in his time, in Europe and Japan. Greg was a phenomenon. There's no other way to say it.
Karen and I saw him in Crazy Ivan several times at Diamond Jim's. And Karen, Linda Henderson, and I saw Greg for a wild Halloween performance at Snowshoe Brewery, and some rowdy performances in Twain Harte. And of course outdoors at the park in Tuolumne. I have seen 20-something guys who aspire to be guitar players literally bow down at Greg's feet during a show. I have seen his solos get standing ovations. I have seen his guitar work bring an audience to awed silence. And through it all I have seen him approach his craft with humility, and humor, and an intoxicating sense of fun.
Greg was truly our "Pied Piper" of Sonora, and I would have followed him anywhere, because he helped show me how to fall in love all over again: with music, with a moment in time, with a town that I will always cherish, and with the woman who is the soulmate I never stopped believing I would find.
"Rest in Peace" is what is expected in the circumstance, but I don't think that was ever really Greg's style. Heaven has never rocked out like it's rockin' out tonight. Welcome home, brother. We'll join you when our time is right.